Organization is much more attainable with routines and simple structures to follow. One of the biggest reasons that peoples' information is so overwhelming is that there's no system in place to:
Capture new information coming in
Clean out & process gathered information
Digitize the information
Organize the information
Following an easy digital maintenance schedule is the key to staying organized! When you know your important information has a system it's much easier to have a clear and present mind because you're not distracted by all of your stuff and all of your to-do's. It also helps save valuable time as everything has its place as well as a designated time to be taken care of. No more wasting time searching for information or figuring out what to do with information.
Anyone can get started with this simple digital maintenance schedule! Read all the details and tips below.
Just Getting Started with Digital Organization?

If you're brand new to this whole digital thing then give the routine a test run this week. I'd love to know what you think! You also may be interested in my free 7-day email course: Simplify with a Life Digitally Organized. It's a great way to get started down the path of digital organization.
Daily Tasks
These simple tasks take just minutes a day and will help create order and clarity in your life.
Clean Out Bag/Purse/Wallet

It's amazing what can be collected in one bag throughout the day. Have a system for emptying your bag's contents daily. See my tips here.
Clean out Mail

Physical mail and digital mail.
Use Inboxes

Inboxes are simply gathering locations for things collected throughout the day. I have digital inboxes in places like Evernote and OmniFocus and a physical inbox right by my front door. Read about my physical inbox here. If you're new to Evernote and OmniFocus, get tips and tutorial for using Evernote here and for OmniFocus here.
Weekly Tasks
Dedicate 15 to twenty minutes each day during the week for digital maintenance and cleaning. Following a simple routine and doing a little everyday is key to staying digitally organized. It's easier than you think! Give it a try this week.
Sunday. Personal Planning

Look ahead and plan out your week. Collaborate with others where necessary and makes sure that everyone knows what the week ahead will bring. Get everything out of your head and in your planning system. Look at your calendar to see if there are any upcoming appointments, birthdays, events etc. I use OmniFocus for task and project management and Apple's Calendar for appointments and birthdays. I use the Clarity Notebook for daily and weekly focus.
Monday. Meal Planning

Having designated meals for the week and all the food necessary to make it always makes for a smoother, happier and more simple week. Spend a few minutes to quickly plan out your meals, write a grocery list and schedule when to go to the grocery store. I use Paprika for food management. Get tips and tutorials for using Paprika here.
Tuesday. Pictures & Journal

Pictures, pictures pictures! With smart phones managing pictures has become very difficult. It's wonderful to always be able to capture the moment, but with pictures, videos and screen shots all intermixed photos can quickly become disorganized disasters. Designate this day to going through and cleaning out your photos. Delete what you don't need, move screen shots to Evernote and organize the pictures you'd like to keep. Record memories in your digital journal and use applicable photos. I use DayOne for my journaling. Get tips and tutorials for using DayOne here.
Wednesday. Backup

Don't underestimate the importance of backing up your important data frequently and intensely. For continues online backups I use CrashPlan. For local external hard-drive backups I use backups here.
Thursday. Mail & Money

Go through your collected mail and process as necessary. Add invitations to your calendar, pay bills and take care of any other items. Allow a few minutes to review your budget and update your finances.
Friday. Clear-Out & Process

Get ready for the weekend by cleaning out all digital and physical inboxes. This includes emails, task management systems and physical locations that you use to gather receipts and incoming papers. Organize physical information and prepare for it to be scanned. Process any notes collected throughout the week. Clean off your computer desktop — screen shots, docs etc.
Saturday. Scan

Scanning day! Get everything in your computer and discard anything that you don't need a hard copy of. I use the ScanSnap here.
Need some reminders? Follow along on Twitter and/or Facebook for daily reminders of these important tasks.
Looking to go to the next level?
Are you ready to jump into digital organization with two feet? Then you're in the right place! Check out the, Go Digital. Go Paperless. LIVE Organized. online course. Just as the title explains, this course is a step-by-step guide for becoming digitally organized. It will walk you through the purging process of all of you physical information, how to scan and digitize that information and of course how to organize it once it's digital. And remember, the free email course is great place to start if you're thinking about getting more digitally organized!
Monthly Calendar & Template
For a monthly overview and check-list of this simple routine get this free template and monthly digital maintenance calendar below. It's a great way to track your progress and to start building the habit of digital organization.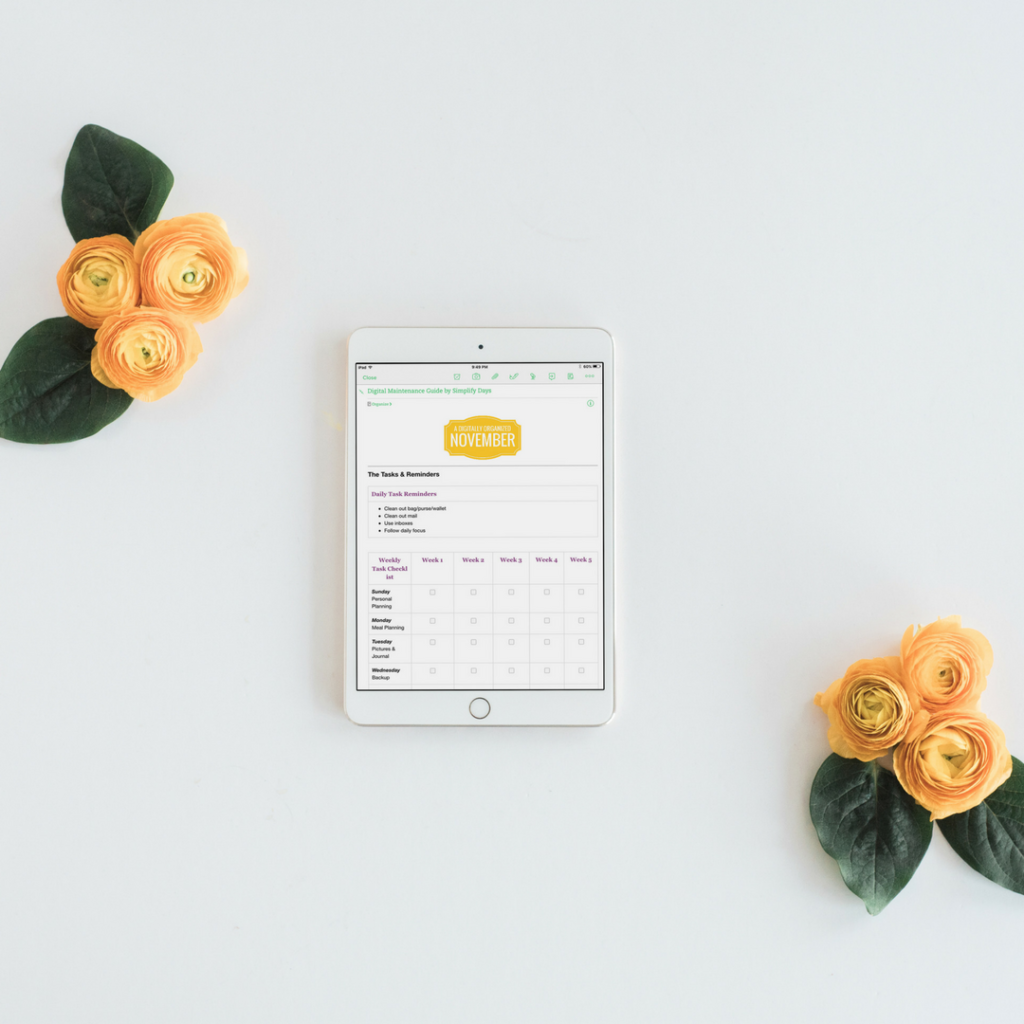 — Learn how to use this digital template in Evernote with this VIDEO. —
— Learn how to use this digital template in Evernote with this VIDEO. —
Original article and pictures take http://simplifydays.com/2015/11/easily-maintain-a-life-digitally-organized-in-just-minutes-a-day/ site